What you should know:
Did you know that 80% of consumers have heard of the team "e-waste" "E Waste" "electronic waste" but don't actually understand what it means? E-waste is a popular, informal name for electronic products nearing the end of their "useful life." Computers, televisions, VCRs, stereos, copiers, and fax machines are all common electronic products. Many of these products can be reused, refurbished, or recycled.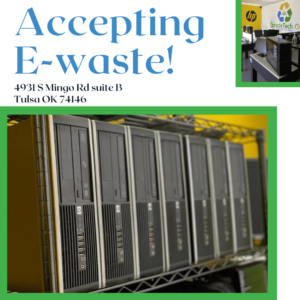 In fact, 31% of consumers still either throw away their old electronics with household garbage or mix them with other recyclables! And there are only more devices getting thrown away each year.
Since 2018, the percentage of internet users in North America who own 3 or more devices has risen from 70% to 75%, and the number of users who own 6 or more devices has risen from 14% to 22%.
Tech progression means more e-waste:
Due to the advancing & progressing made each year in the tech industry, consumers are inclined to upgrade more often to have the newest item(s). Unfortunately, this also means faster disposal of electronics, even if they still have years of life left.
Did you know 14% of consumers throw their "old" electronics directly into the garbage? Only 35% sell that old tech, and only 44% look for companies that specialize in recycling electronics.
Businesses can start the change:
As a business, the amount of electronic waste your company produces may grow as well year after year.
Doing your part to fight the rise of e-waste is as simple as recycling. Do some research and find a local electronics recycler in your area, chances are there is a business ready to pick up your "trash" and give you your space back.
Better yet, allow your employees bring their electronic waste in to be picked up & recycled with your business equipment.
Schedule a pick up for your business!
Practice proper e-waste disposal:
Business or consumer, your electronic waste matters. Partner up with an electronics recycler in your area & dispose of your old electronics there, not in your trash cans! View what items UpcycleTech in Tulsa OK accepts for some industry standards here.